How it works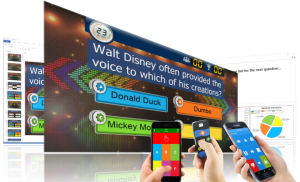 Just like being on a TV quiz show!
Custom Virtual Games (CVG) is the all in one solution for creating branded and custom TV Style game shows! Whether it's head to head, a quiz with 30 players or a massive game show with thousands of players, Custom Virtual Games handles it all!
Let us start by designing your custom show in the user-friendly Custom Virtual Games questionnaire, where you can use a vast array of well-known quiz formats including multiple-choice or fastest fingerstyle questions, music, or picture\video questions, Jeopardy© rounds or Who Wants to Be a Millionaire© style rounds. Alternatively, you can also use Custom Virtual Games for live audience polls. Design your own style based on your wedding theme and colors!
Custom Virtual Games works by using mobile smartphones on-site and laptops/computers to view and to answer the questions off-site simultaneously, during the show!
Your personal CVG Host will facilitate your custom show, and guests can be divided by teams or play as individuals and the game show will track team scores. Intermediate scores, response charts, or correct/incorrect overviews can be shown by the press of a button.
For your wedding or rehearsal dinner:
We will work with you to design your custom Bride and Groom show with multi media (Photos, Song Clips, and Video) that will help your families and friends to get to know you better in a FUN way at your reception/dinner AND even guests that could not attend can participate in the excitement LIVE! (in addition a slide show can be run prior to or after your show) and your entire show session can be recorded for you to watch again on special occasions and anniversary's!
Popular categories that other couples have used:
Baby Photos, Nicknames, Hobbies, Unique Facts, Favorite Movies/Music, and MANY MORE!!
Contact us today to get an invite to a demo or to reserve your show today!