With our photobooth & green screen set ups, we can customize your entertainment any way you need! We can provide a photobooth, promising the highest quality in all of Ohio. Same goes with the green screen, of course.
Here's a list of things you can expect from us once you hire us!
FREE delivery, set up and tear down
One or two on-site attendants (determined by the size of your event)
Unlimited high-resolution photos all evening (if 10 guests go into the photo booth, all 10 will immediately receive a picture.)
FREE DVD or flash drive of all images taken during your event
FREE customized banner/message that will be printed on all pictures
Your guests can choose between color, black and white
Flat screen monitor so guests can see the action inside the booth while waiting!
FREE scrapbook service (you must provide the scrapbook, we'll do the rest…or you can purchase one from us for a fee)
FREE PROPS!
*Endless fun, treasured photos and cherished memories to last a lifetime!
Packages starting at $595
Green Screen Experience
With our 100% customizable green screen, we offer a guaranteed fun time. Customize up to 8 or more backgrounds. Customize your template as well!
Open Air Photo Station
Our open air photo station is great for weddings.  We can provide the best quality in all of
Central Ohio!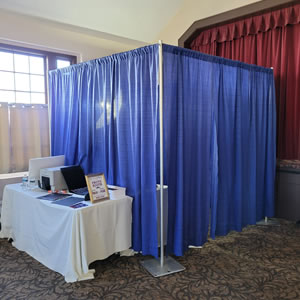 Green Screen Booth
We can also control the environment for the best photos inside or outside.
Current Monthly Promotions
Gold Star Package: $795.00- CURRENT PROMOTION: $200 OFF: $595.00
(Discounts given in exchange for agreement to all options)
On-site professional photo booth attendant
Choose between 2 types of booths (Open Air/ Green Screen)
Includes unlimited HD customized prints: (strips or 4"x 6")
FREE scrapbook service (you must provide the scrapbook, we'll do the rest...or you can purchase one from us for a fee)
FREE PROPS!
Up to 4 hours of Attendant services, taking the guest pictures
FREE Customization to include: bride & groom name and wedding date
Flash Drive of all guest pictures

V.I.P. Package: $995.00- CURRENT PROMOTION: $200 OFF: $795.00
(Discounts given in exchange for agreement to all options)
On-site professional photo booth attendant
Choose between 3 types of booths (Open Air/ Green Screen/ Enclosed)
Includes unlimited HD customized prints: (strips or 4"x 6")

Real time posts to text/email/social media

FREE scrapbook and service: Cherished Keepsake with guest personal comments (Includes Deluxe Scrapbook: Wedding Color)

FREE PROPS!

Up to 5 hours of Attendant services, taking the guest pictures

FREE Customization to include: bride & groom name and wedding date
Flash Drive of all guest pictures
**Custom Packages available upon request
*Digital photos available to be texted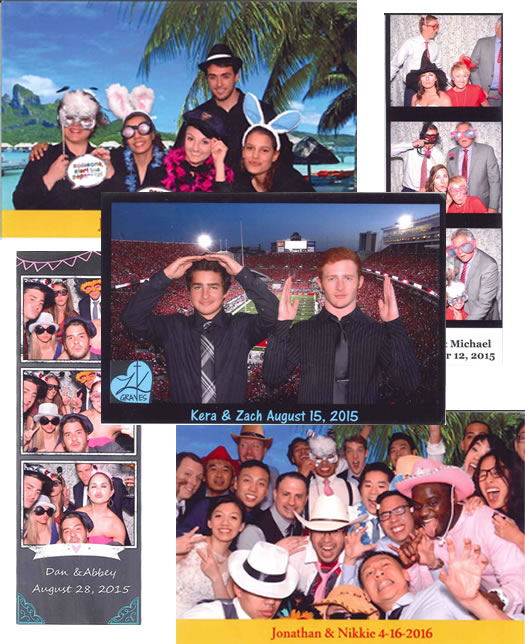 Backgrounds
World Destinations


Special Themes


Holidays


Superheros


Landscapes


Green Screen Experience Background Options

Here are some options to choose from for your VIP event:
Holiday Events
Landscapes:
International Destinations
Special Themes
If you do not see what you are looking for here to match your theme, you are welcome to send some high-resolution photos (1000 dpi x 1000 dpi or higher please in a .jpeg format) or simply ask us to locate them for you
Green Screen Experience

This takes the photo booth to the next level! We can custom design 8 backgrounds to fit your theme and add your company branding. Every guest will get the opportunity to choose their own background to capture their memories of your event with a picture momento that they can take home with them.. Plus, you will get a flash drive of all the pictures taken during your casino event! (These are great to post to your intranet, social media, or even use for blackmail later!         (just kidding on that last one:)u